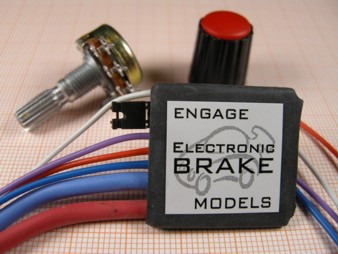 SCC-BRK is an electronic brake that can be mounted on all slot cars controllers (with resistor or electronic) that work with a three wire connection.
The connection to the track must be done with the 0V of the feeding (RED thread Parma) in common, as it is used in Italy and Europe.
The regulation of the braking does not more only happen through a simple potentiometer, but through a Mosfet transistor controlled with a system PWM.
The Mosfet used has an inner resistance much small (0,003-0,0055 Ohm) for which times of arrest are faster respect to a classic potentiometer.
In the event in which the model is wanted to be unbridled, this type of brake concurs a distance of the curve much more linear respect to a classic potentiometer (ABS effect).
By inserting a little jumper two range of refrained can be selected; the maximum refrained remains the same one, changes the minimal refrained one.
Substantially it is as if in a push-button there were the possibility to choose between two potentiometers of the brake, from 10 Ohm and from 100 Ohm.
The voltage supply can vary from 9Vdc to 24Vdc.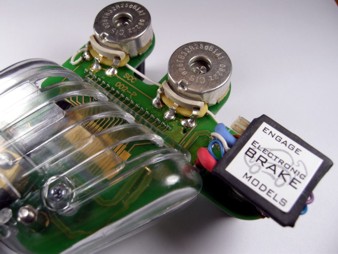 ELECTRONIC BRAKE ON ENGAGE MODELS CONTROLLER SCC002-P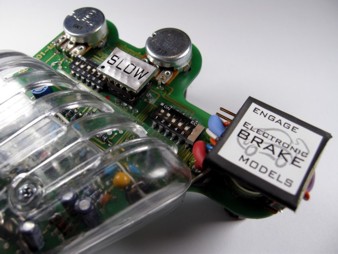 ELECTRONIC BRAKE ON ENGAGE MODELS CONTROLLER SCC001-MAG